9 Tried (& Quick) Holiday Video Ideas For Businesses + Examples!
16.10.2020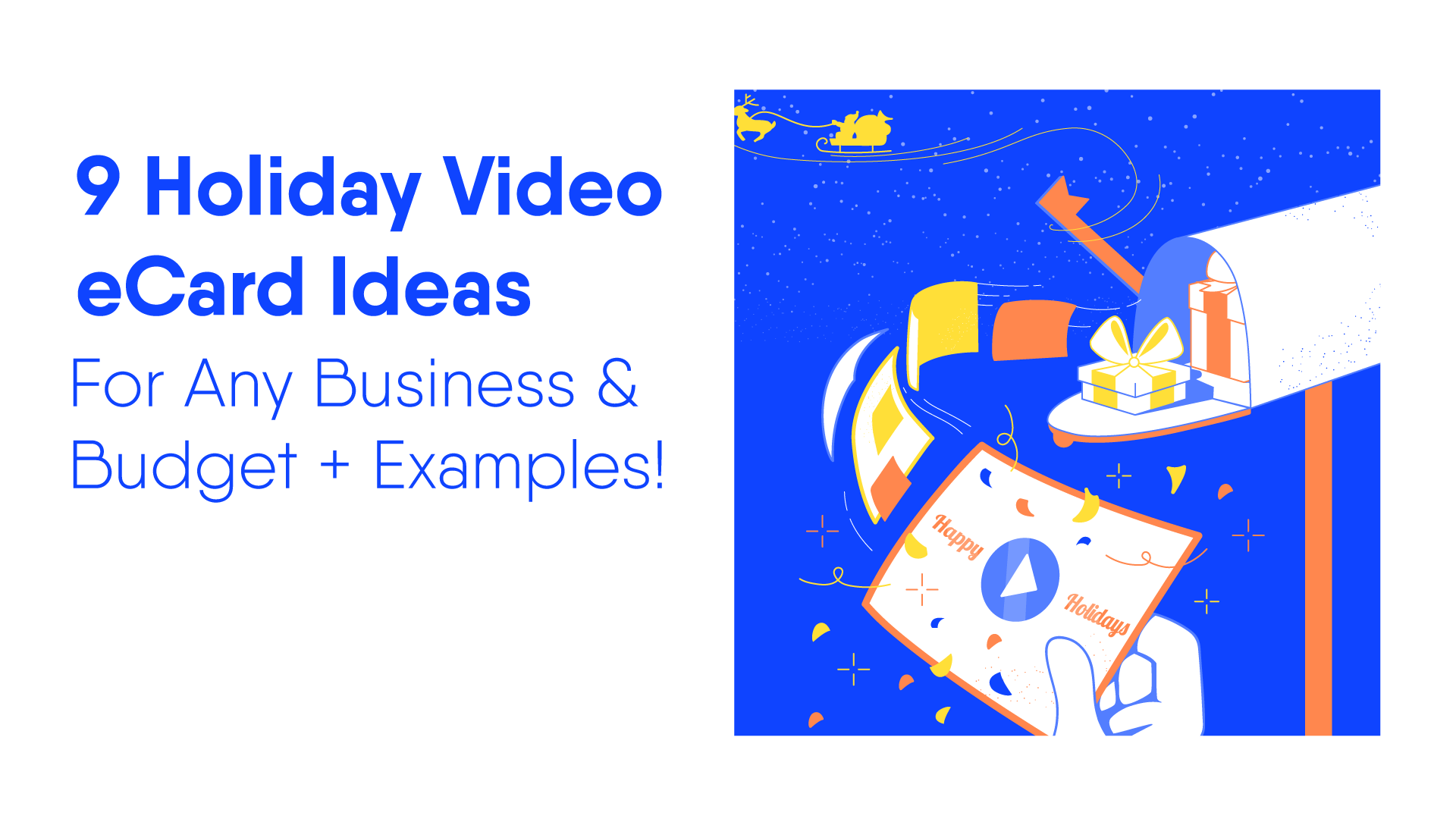 Less than two weeks left till Christmas, and you still haven't thought about your company's holiday greetings video?
It's okay, we've all been there. That's why we've decided to share this article.
Corporate greetings video can be an exceptional way to express care to your customers, partners, and employees in this special holiday season.
Your holiday video can bring a smile, make someone tear-up a little, or simply remind your customers of the great things you've shared this year. Either way, it will be much more memorable than a simple picture or text.
A Branded Holiday Video Can
Help your brand reconnect with your customers without feeling intrusive. In general, people are very open and appreciative towards holiday greetings without a sales intent.
Launch video marketing in general. In case you still haven't tried promo video, it can be hard to find an appropriate topic to start your first campaign. Holidays can be a fun excuse to create your first "top of the funnel" marketing video.
Show your care for values beyond revenue. Your business doesn't have to be a faceless corporation, just the opposite – customers and partners love when they know who's behind the curtains, especially if they can relate to you personally.
Boost up your PR. One memorable holiday video can go a long way and even get viral. When was the last time you've seen a Christmas card shared all across the internet?
Build morale among your employees. If you decide to create an internal holiday greetings video, you can remind your team of their achievement and significant contribution. Or, you can encourage employees to take part in the video production themselves – a perfect scenario for team building and an excellent way to share the holiday spirit.
Alright, so corporate videos for a holiday season can be quite helpful. But how can you create something both creative and cost-effective? Here's a few ideas for you.
Creative Ideas For Your Holiday Greetings Video
In this list, we've collected for you 9 creative holiday video ideas that cover almost any budget and can still be done before 2021 hits the door.
1. Simple Video eCard (With a Twist)
eCards are digital holiday greeting cards that are meant for online sharing. They can take many shapes and forms, but the most popular ones are slideshows, live-action videos, and animations.
Christmas slideshow videos are popular thanks to the abundance of different software (free and paid) for this kind of simple video production. On the flip side, that's also why such business eCards often look cheap.
How to make an eCard fun and exciting rather than generic and forgettable? You can make it a simple live-action video with a bit of creativity, as Hootsuite has done:
By making its eCard so unusually long (40 minutes!), warm, and fuzzy, Hootsuite has turned a simple video idea into something outstanding.
This adorable video begs to be played over a TV, and wood crackles create for a perfect background ambiance both at work and at home. All thanks to one set, one take, and one single actor – the owl. Plus a bit of fireplace magic, of course.
By keeping everything so simple, you can also produce a similar video in a day or two.
2. "Office Decoration" Video
Showing people behind the business is a great idea for a corporate holiday eCard if you have a vibrant, charismatic team. And it's super easy to create too!
No need for a script, new location, or special props. All it takes is a camera and your team having fun while decorating the office. Throw in funny costumes into the mix and they will forget that you're even filming.
Here's a great example of such a holiday office decoration time lapse from Aristotle Interactive:
Most companies decorate their offices for Christmas, so why not take advantage of this and shoot a short time lapse of the process?
3. Straightforward "Thank You" Video
This type of corporate holiday eCard requires only a camera and a person or a few from your company, ready to share their gratitude to the viewers for their support. It can be an internal video, a video for customers, or both.
"Thank you" holiday videos are especially popular in B2B marketing and often feature C-level management in a strict official style. Although this doesn't mean that you can't create your own fun version, or that a consumer brand can't send a "thank you" eCard.
With a little professional help you can turn even such a straightforward concept into something unique. Like iCabbi has done, for example:
You may also want to acknowledge difficulties that the company has faced during this year. For internal videos, it's even more important to say a word of encouragement to those who have experienced a tragedy or hardships.
Let your team add their creative touches to your holiday video. It doesn't have to be perfect, but it definitely should be genuine.
4. "A Year in Review" Video
If you already have some corporate videos or photos from the past year, a year in review can be a perfect holiday video idea for you.
This type of business eCard highlights the best moments of the passing year at your company. It can showcase your culture, individual team members, and brand story. Just try not to be overly promotional.
Check out the "Year in review" video from Salesforce and WWF-Australia to get some inspiration:
Such videos give an opportunity to look back and appreciate the milestones that your company has already reached. Even the most humble achievements can be turned into a great story with the help of smart scriptwriting and creative direction.
Videos can wait…
But your competitors will not! Make sure you don't fall behind by skipping video marketing.
5. "Creative Teamwork" Video
This type of holiday eCard shows your team creating something to greet your past and present customers.
It can be a huge drawing, like in the example below, a giant gingerbread house, or something unusual and specific to your niche. Think big, and you will find your golden idea.
Check out the following video from Sensofar that embodies this exact concept:
Depending on the size and complexity of what you want to create, such business eCard can require more work, but it's also more memorable.
6. "That Gift I never Got" Video
One word – nostalgia. We all share this feeling sometimes, especially with regards to childhood hopes and dreams.
This corporate holiday video idea is meant to remind viewers about some of those childhood Christmas memories in the form of short employee interviews. It can also include some clips of old commercials or photos of the toys to make the stories more visual and fun to watch.
"That Gift I never Got" by Vidyard is the video that actually gave us this idea in the first place:
Is nostalgia something that can fit your brand's message? Then definitely try creating such video.
7. "The (Weird) Office Tradition" Video
As the title suggests, this type of video tells a story of one or a few (real or made-up) holiday traditions in your company.
Maybe your brand has European roots, and you celebrate Christmas in a unique way, or every year you wrap gifts for some charity, or perhaps you have some silly holiday custom at your workspace. Real peculiarities like these can be a nice idea for a corporate holiday video.
Alternatively, you can imagine a funny slash weird custom that you could have. It can work well for internal holiday greetings video because there are always some inside jokes in every company.
The following clip is an episode from the Office series, not an actual corporate video, but it nails the concept pretty well:
Just remember that your company's inside jokes may be too foreign to your customers. So for a public Christmas eCard, we recommend avoiding the "weird" part.
8. Christmas Music Video
For a team that has ears for music, this type of holiday video can be an easy and fun choice.
From collective Christmas caroling to a popular holiday song mashup – there are plenty of different music videos you can create. Ask your staff what they can and want to sing, and hire some professional studio to help with recording.
Music video can sound like a relatively simple idea, but producing it in a decent quality usually requires a lot of effort. You have to take into consideration the shooting itself, sound, and editing that may be needed.
Below is an example of a high-quality corporate holiday music video from eDreams ODIGEO:
As you can see, not everyone has to sing, so you don't necessarily need to have a voice like honey to participate.
9. Short Animated Christmas eCard
Interviews, music, and other creative live-action videos are all nice and cool, but not every company has the time (or talent) for live-action projects such as these.
Sometimes you are simply too busy hurrying to finish all of the client work that needs to be done before Christmas. That's when animation can save the day.
With animated videos, you don't need actors, sets, or props, so the production can start immediately once you find an available studio. Experts can help you create just the right mix of style and length for your budget.
Here is a great example of a cost-effective animated holiday eCard from Reintel that can be created in a matter of a few weeks:
Christmas is coming soon, and your brand is still without a holiday video? We're used to short deadlines. Let us handle it, so you could relax this holiday season, and get your video on time.
Contact us to start your project before it's too late.
Stay safe and happy marketing!