For anybody who has ever attempted searching for a digital agency online, Clutch.co should be a familiar resource. This B2B platform lists 27,000+ agencies in 500+ categories and boasts 100,000 buyers monthly audience. That's quite impressive. So much so, that one may wonder – is it still viable for a small firm to try and rank on Clutch?
Our journey
We are a video production company and in a month it will be three years since we are on Clutch. Starting from zero, we are now a Clutch 1000 recognized vendor, one of the top B2B companies, also ranking top in the video production segment (#52 worldwide).
It's important to mention that we hadn't sponsored Clutch until very recently, so the growth we've seen there was mostly organic. We are currently a Silver sponsor and enjoy a slight increase of leads coming from the platform, but all of the Clutch rewards we have so far were received prior to the sponsorship.
We believe that the key to this growth is hard work and appreciative clients. Today, we have 31 review and a perfect 5-star rating on our profile.
Notable reviews
What we like about Clutch reviews is how deep they go in terms of details. Clients don't have to share a lot, but they are prompted to include more information with a well-framed questionnaire.
One of our recent Clutch reviews came from a data security startup. As you may notice, the review is anonymous, which is another great feature available with Clutch for the clients that don't want to share their identity for various reasons.
This client approached us to create marketing videos that would communicate the benefits of their product to potential customers and partners. We delivered two engaging animated videos that showcased the product's unique capabilities while simplifying their product messaging.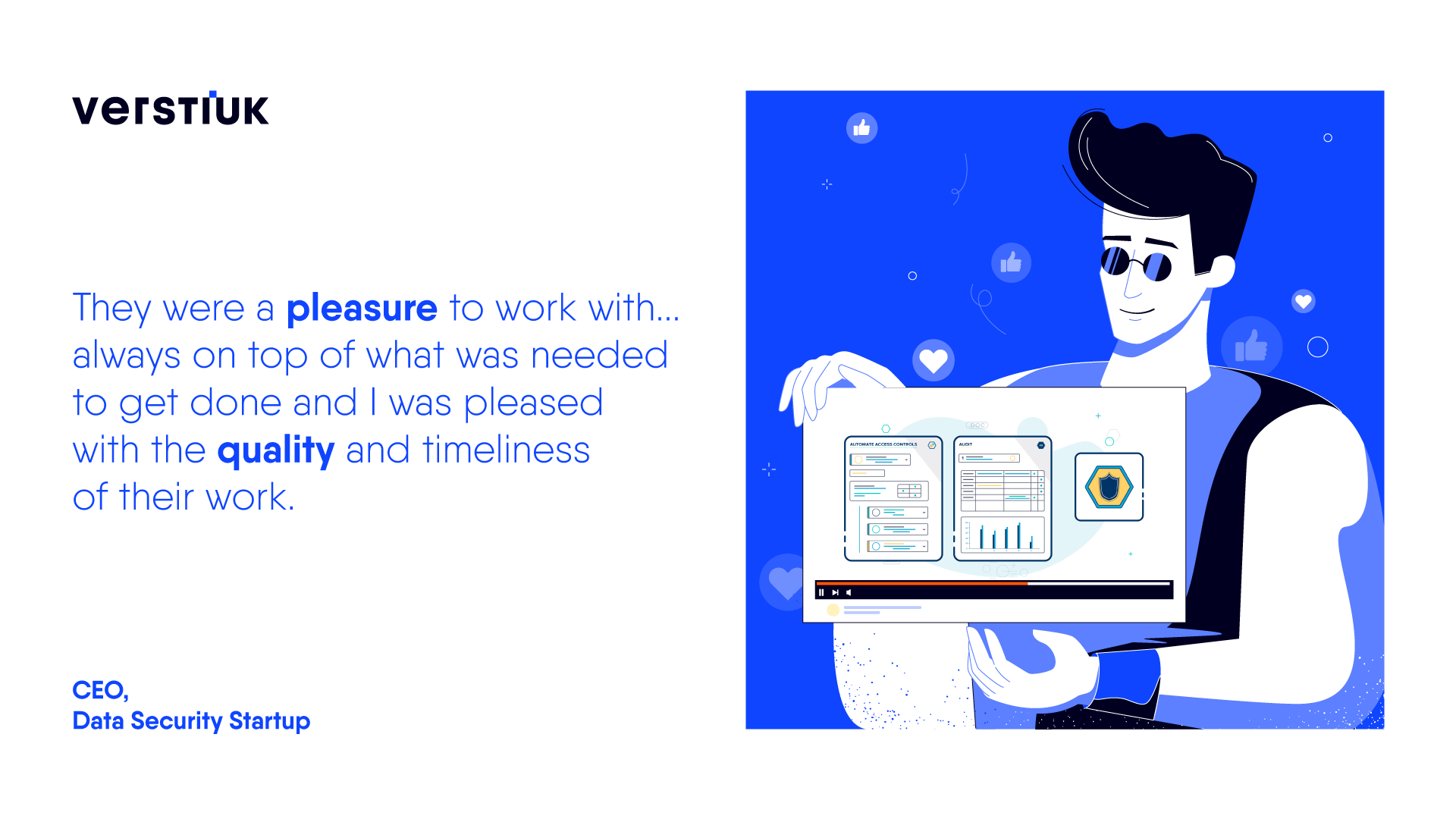 "They were a pleasure to work with… always on top of what needed to get done, and I was pleased with the quality and timeliness of their work." — CEO, Data Security Startup
The client found our workflow to be effective and appreciated our responsiveness. They also explained in their review the decision-making process that has led them to choosing our agency, as well as shared their early results and even suggestions for our improvement. Before Clutch, it was harder to get such detailed reviews.
Another notable review describes our work done for Meetora, a platform that connects social media influencers and other public figures with their fans. We produced a 2D animated explainer video to introduce potential users (influencers and their fans) to the platform and quickly explain its advantages.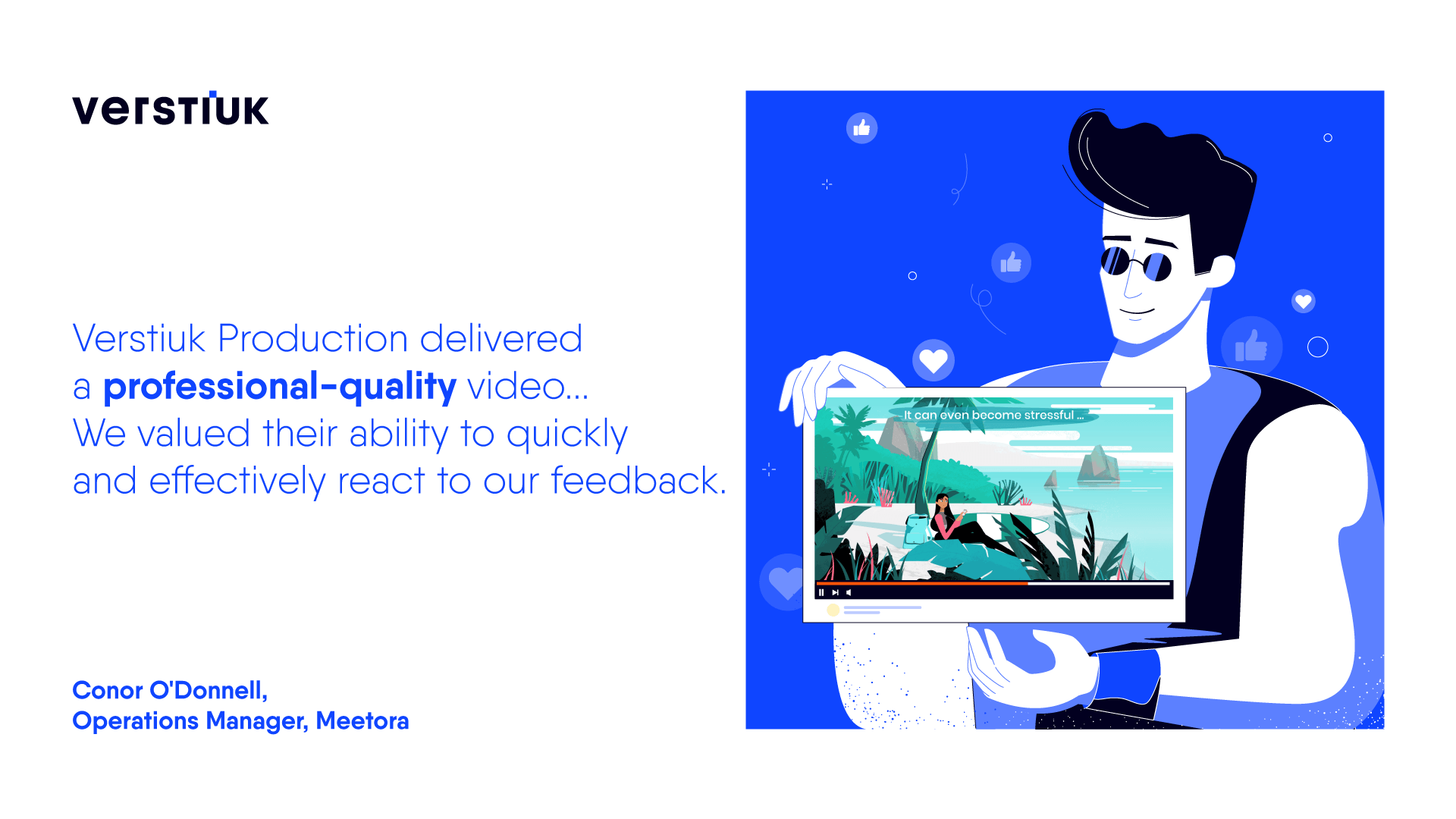 "Verstiuk Production delivered a professional-quality video… We valued their ability to quickly and effectively react to our feedback." — Conor O'Donnell, Operations Manager, Meetora (Seekwa GmbH)
The client found our agency online and was impressed by our portfolio. They also noted that they worked with a single project manager, appreciate our responsiveness, and are very satisfied with the end-result. All these points are very important for potential clients, looking for the right video production agency.
Free coverage on the Manifest
Clutch also owns another (less) popular news and rating portal called the Manifest. It's great because every Clutch agency can automatically get featured on this sister site too.
In fact, we are currently listed as one of the top 20 explainer video production companies according to the Manifest. We haven't paid for this or even applied there, and we're constantly getting a bit of traffic from that one mention, in addition to the leads from Clutch.co.
Conclusion
Clutch and its sister website the Manifest are great resources to promote your agency regardless of its size. However, no rating website can perform miracles and you will still need to work hard before expecting to form a stable positive feedback loop online.
Becoming a sponsor on Clutch will definitely boost your lead generation efforts, but you can also grow organically if you find great clients, willing to share top reviews about your work.
If you are interested in video production services and looking for more of our client reviews – feel free to check out our Testimonials page that also includes two exclusive video reviews.