Interactive Video 101 – A Practical Guide For Businesses
16.10.2019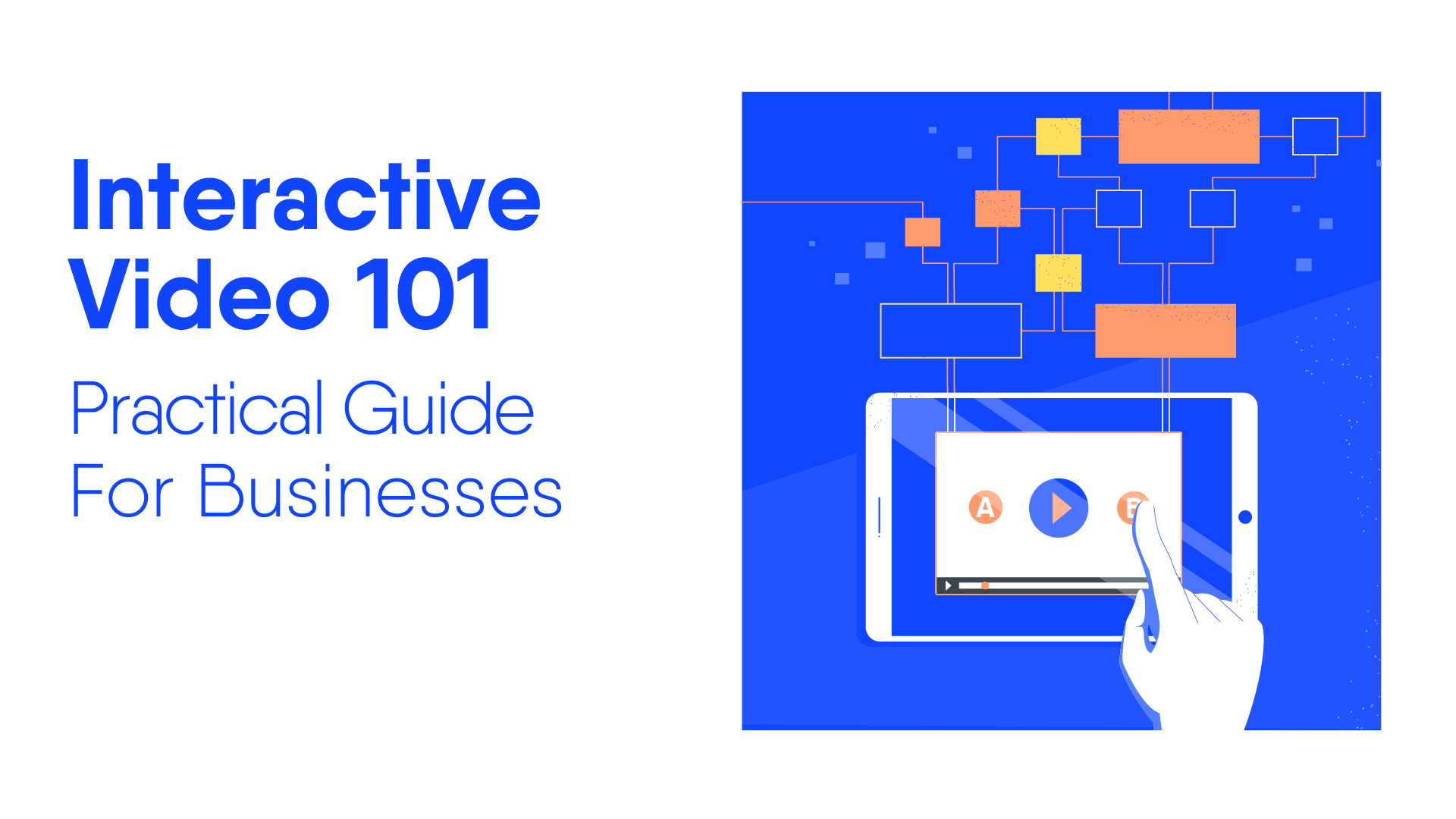 What is an Interactive Video?
An interactive video is a type of video that changes dynamically based on viewer choice within the frame. It can be anything from a clickable button to a complete mini-game, integrated into the viewing experience.
Unlike linear videos that allow only for timeline actions such as play and pause, interactive video can include:
360 degrees viewing;

Clickable timeline bookmarks and outbound links;

Dynamic content that adjusts according to various kinds of input;

Content-blocking forms and regular contact forms;

Choosing between alternative narrative paths (aka branching);

Two or more videos in one frame (aka multistream).
Such interactivity doesn't come standard in video platforms (yet) and requires additional creative efforts to integrate into your linear video. Because of this, interactive videos can get pretty expensive, which immediately begs the question – why would you need them, exactly?
Why your business might need an Interactive Video?
Common sense suggests that an interactive video, in general, should be more engaging. Studies also show that interactive videos have longer watch times – for example, a paper published by MAGNA indicated a 47% increase in time spent watching interactive ads.
Moreover, interactive video is rapidly becoming the new standard. A company called WIREWAX already offers a fully functioning interactivity layer for embedded videos and even ads. They have partnered with social media giants such as Facebook and Instagram to enable native interactive ads on these platforms.
Talking about the exact use cases for interactive videos, there are six most popular types:
Ecommerce Ads
Video content is a huge sales driver in eCommerce, retail in particular. Interactive video can facilitate the purchase even better, thanks to the immediate access to products and the streamlined checkout experience.
Just keep in mind to search for an interactive video platform that is tailored for eCommerce, as not all of them support in-frame checkout and other advanced features.

Product Demo (Explainer)
An interactive demo video is your second best choice after a real-life presentation when it comes to showcasing a physical product. It's also the only quick way to quickly present your product online interactively without resorting to expensive custom web applications and 3D.
For example, you could use hotspots and branching to make your demo or explainer a fully immersive, game-like experience. Or, simply combine a playlist showing different versions of your product, with clickable links to the corresponding product pages.
For digital products, an interactive demo or explainer video can emulate interfaces, provide a customizable layered view of systems and creative projects, and incorporate other media such as a music player, right inside the frame.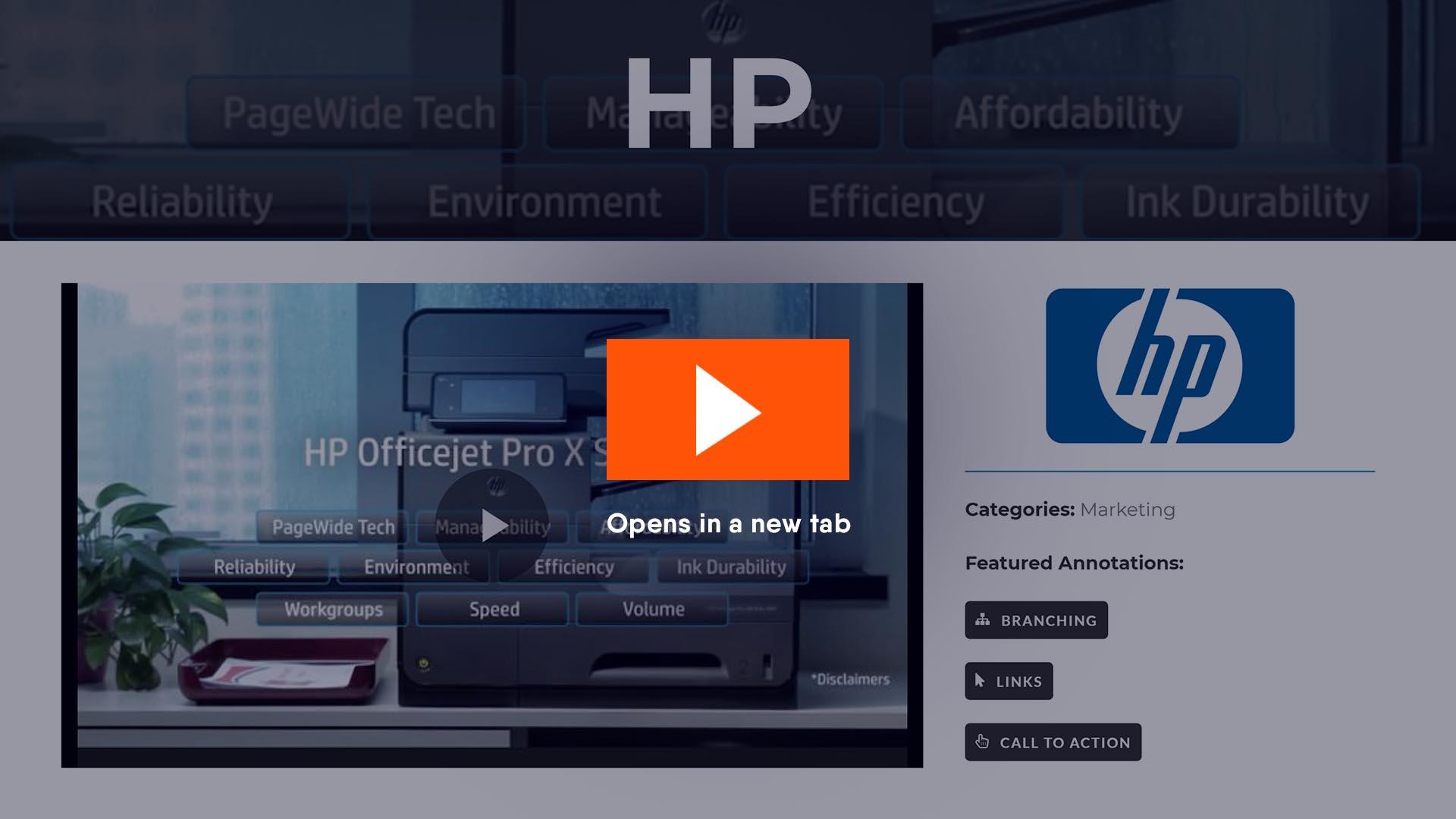 Recruitment & Onboarding Videos
In recruiting, an interactive video is more of a tool for employer branding, rather than candidate screening. Think of it as a marketing video that promotes your company culture and benefits.
Interactive video can be also used to effectively onboard users – both new employees, and clients. Here are nice examples of each situation, to give you some ideas:
Educational Videos
Passively watching videos on a screen is one of the worst ways to learn. That's why online video course platforms use tests to keep their students awake and active.
With interactive video, you get a chance to provide students with tests, course progression choices, and much more without disrupting the watching experience. This makes studying more engaging, productive, and fun.
Educational interactive video is a great way to show students the real consequences of their choices, either right or wrong.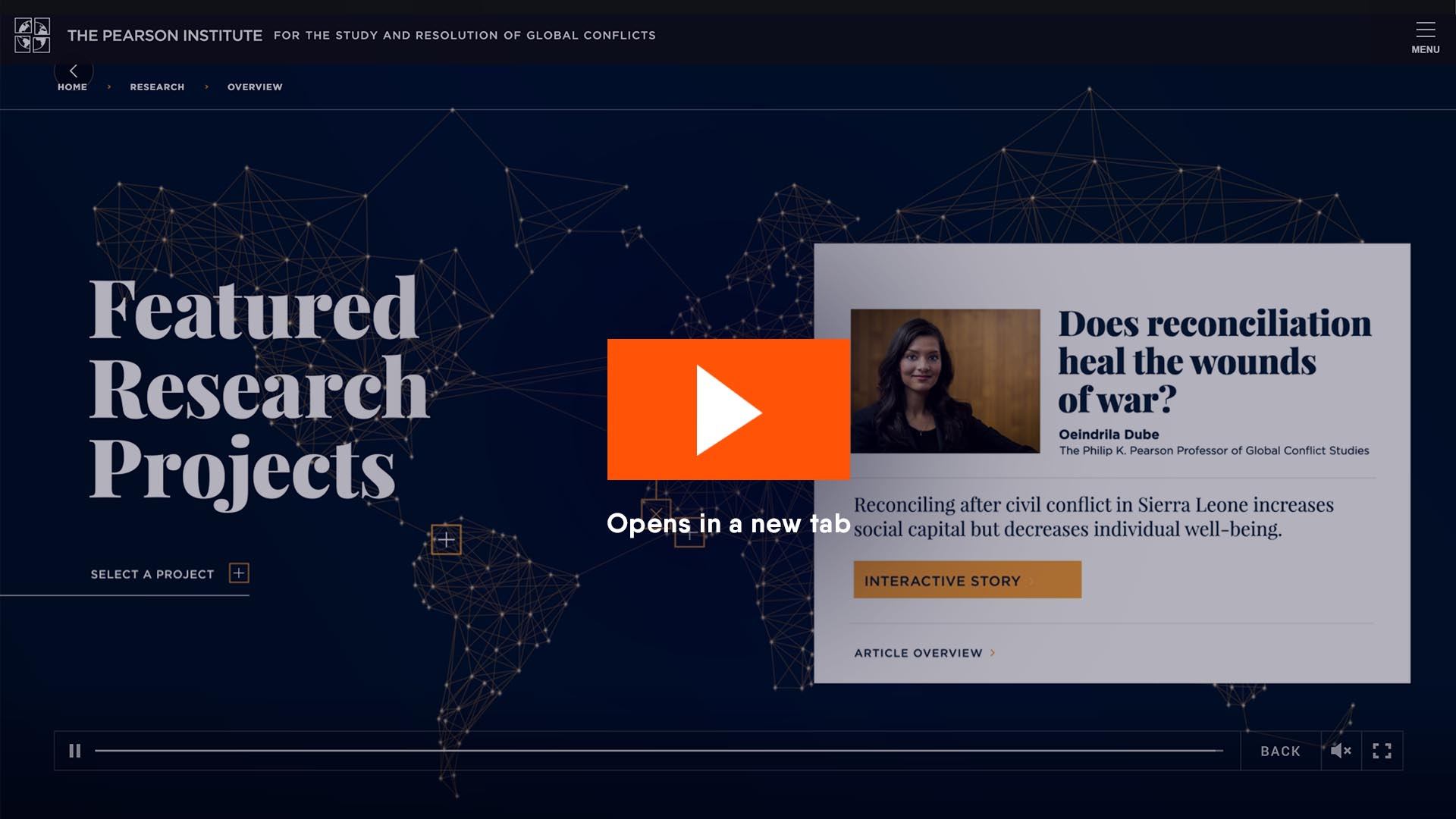 Want a similar interactive video?
Request a quote and receive free video marketing advice from our team. No strings attached!
Video Entertainment
The demand for interactive videos in the entertainment industry is growing rapidly. In fact, Netflix has seen such tremendous success with its first interactive TV series that they decided to "double down" on interactive storytelling.
Your business may not need a full-blown "choose your own adventure" TV show, but with the appearance of new major titles, the demand for branded interactive micro-content will also rise.
Unique Social Media Experience
From commercials to brand videos, it is now possible to create interactive videos for Facebook, Instagram, Twitter, Snapchat, Pinterest, and more.
If your company is active on social, interactivity is something that can skyrocket user engagement. Perfect for B2C brands.
How to produce an effective interactive video?
Templates
Thanks to the recent advances in software, interactive video production becomes more and more accessible. This, however, simplifies only the technical aspect. Artistic tasks like scriptwriting and editing remain a major challenge.
Simply put, when you have one linear video, there is only one dimension you have to keep in mind. With the interactive format, however, viewers are not bound to one timeline or one perspective, which adds another (potentially limitless) level of complexity to the script.
This creative freedom can be overwhelming for a non-professional. For this reason, we recommend starting with one of the following templates. They will help you grasp the concept and find a point of reference before you venture out to create.
Types of Interactivity & Example Frameworks
The classic commercial video script template
The classic commercial video script template is completely linear and has no interactivity (passive viewing experience).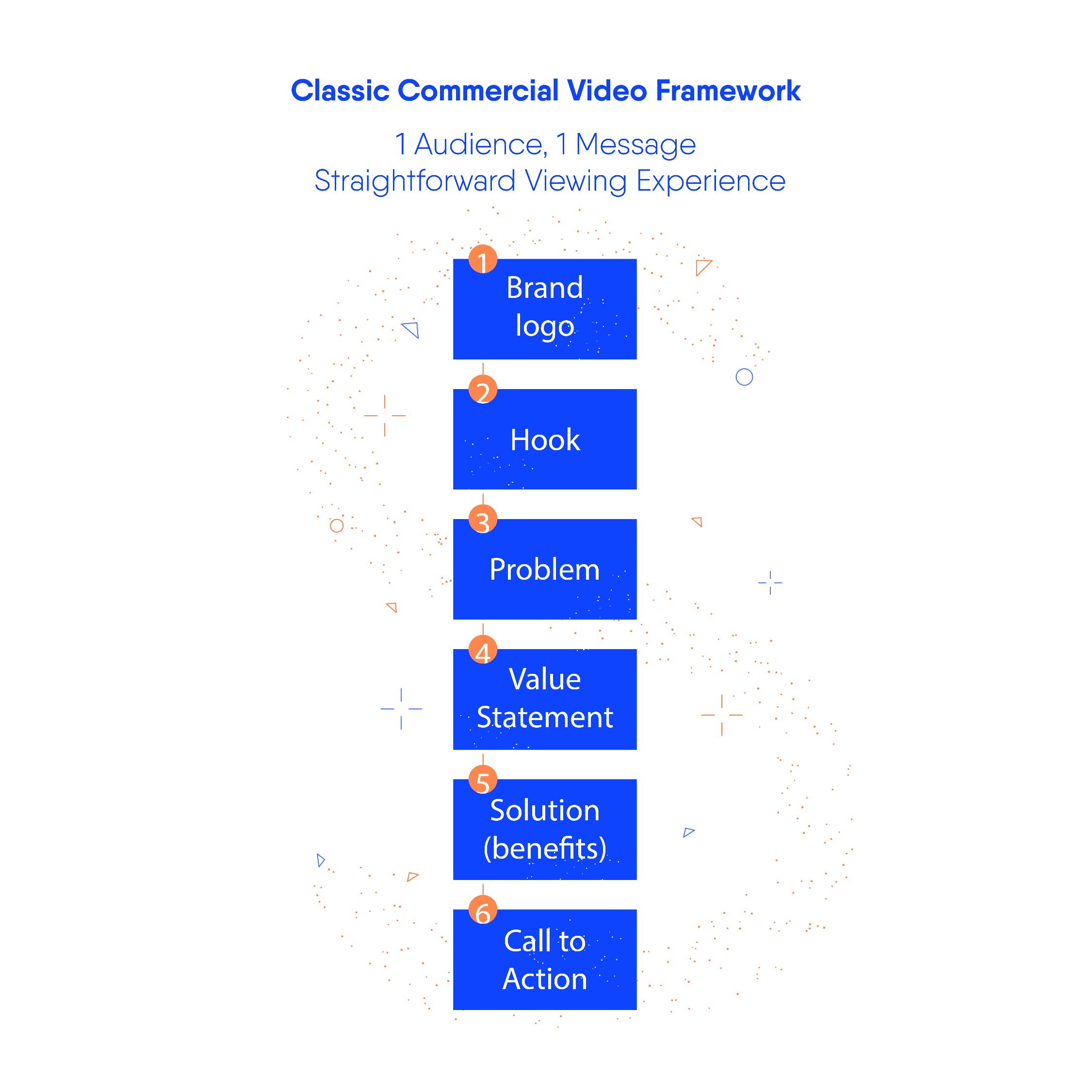 Adding some interactive elements
The classic template can be enhanced with interactive elements (such as clickable links, forms, etc.).
This way, we get a passive viewing experience with a bit of interactivity.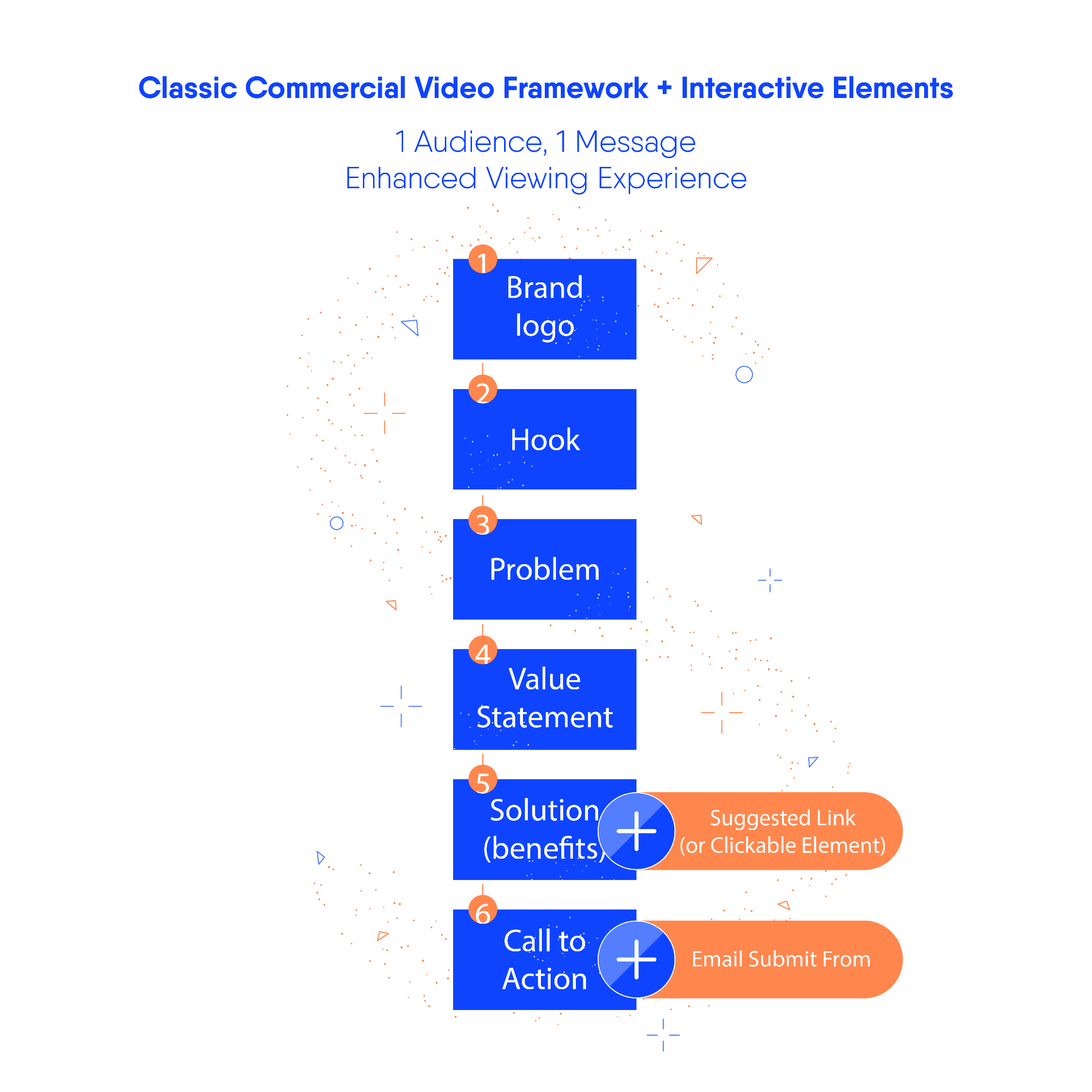 Introducing personalized elements
Some platforms also offer personalized elements (that change according to the viewer's location and other user data).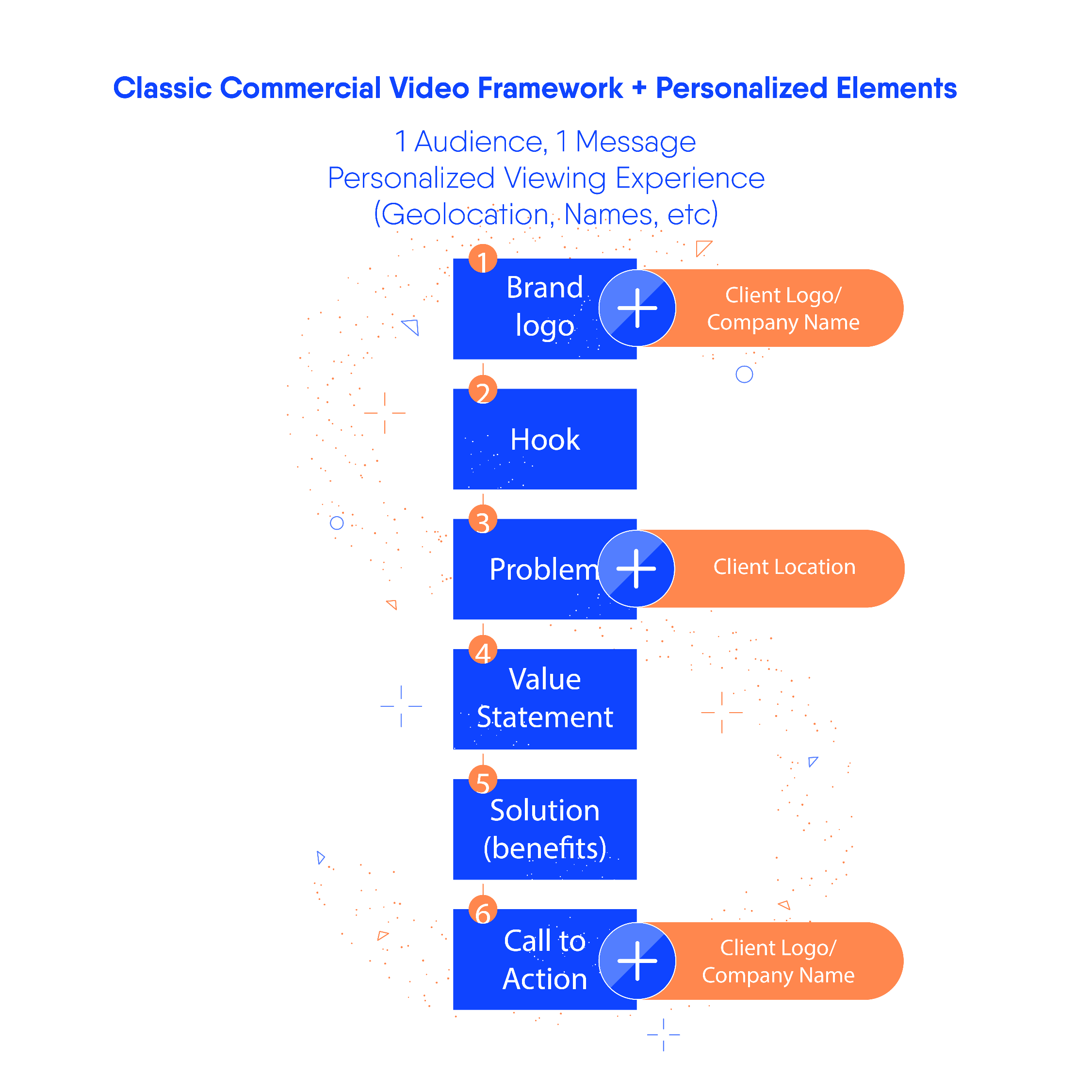 Interactive video template with branching
Finally, there is an interactive video template with branching. Branching allows the viewer to choose his path through the narrative.
It can be very simple, or very complex (example below), depending on the project scope.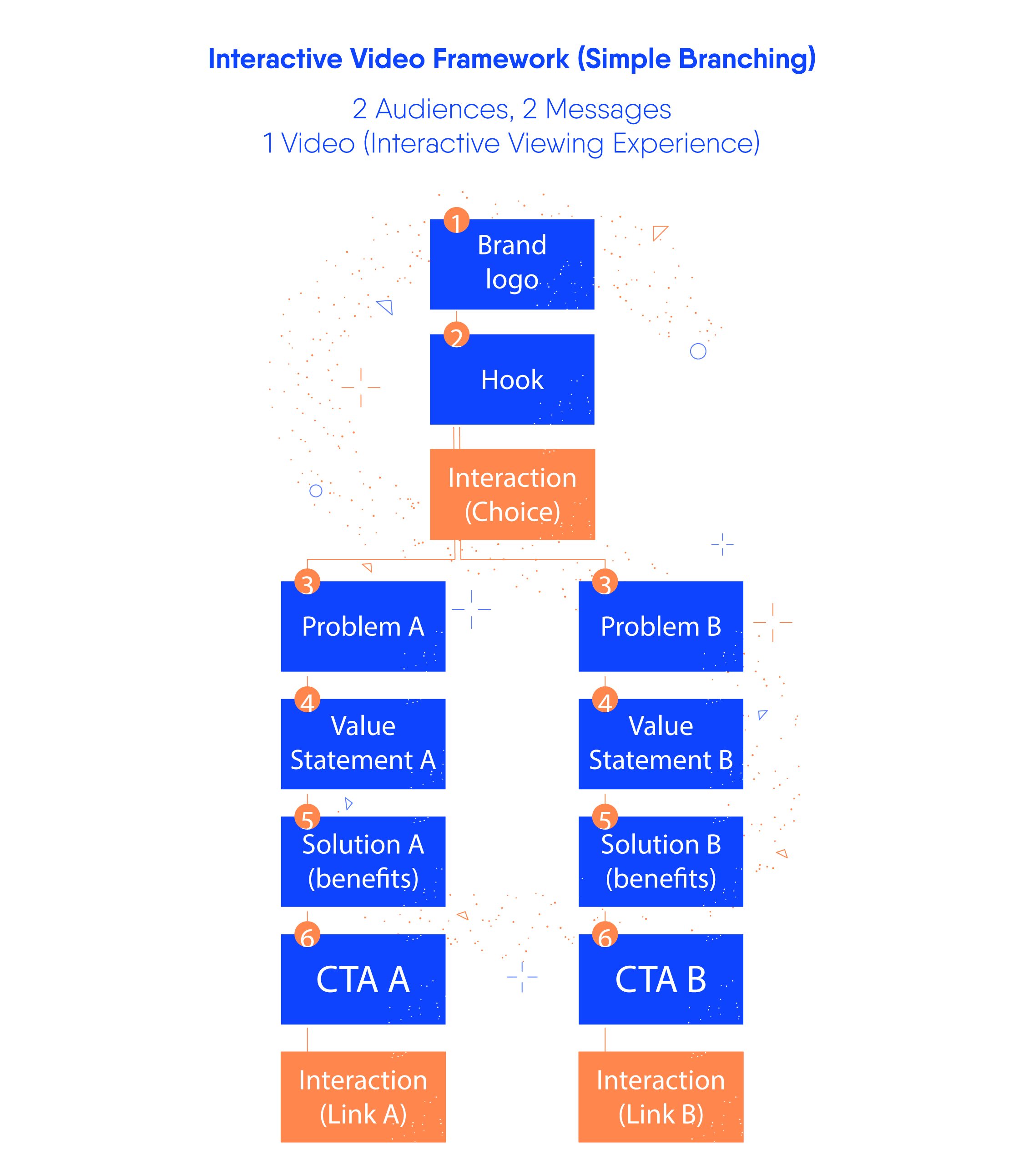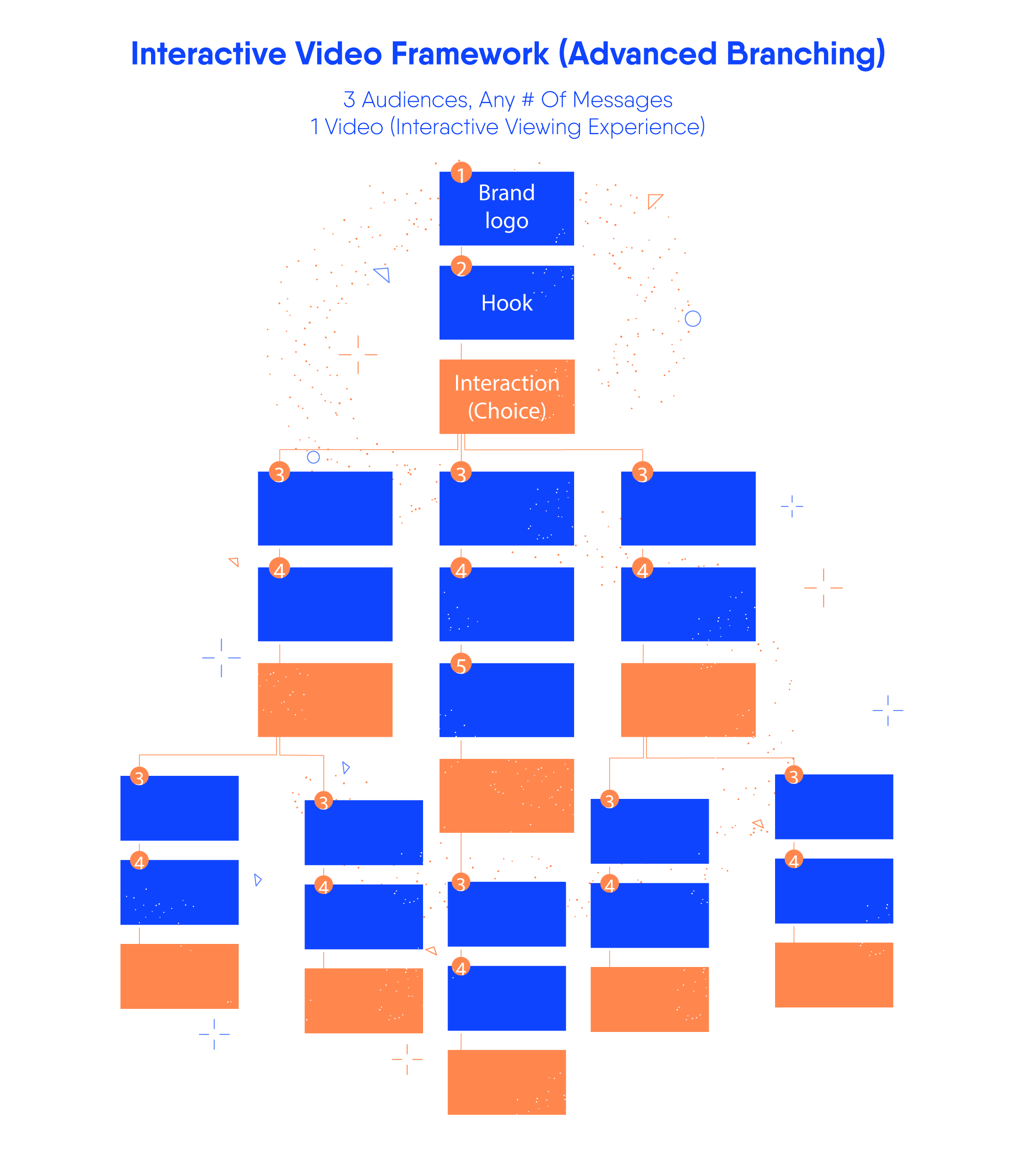 Sounds complicated?
Send us your questions and our marketing experts will answer them for you as quickly as possible.
Best Practices
Regardless of the basic template you choose, there are also some best practices that will help you create a meaningful interactive video.
Below, we have collected advice from three top-rated interactive video platforms, plus a few examples from each of them.
Whether you will be attempting to create an interactive video on your own or will be using an agency, this round-up should provide a good picture of what to aim for.
Let the audience know they can interact
Have a hotspot within the first few shots

A good interactive video is the one that prompts viewers to act right from the start.

Let shots run a little longer

Shots that expect interaction should be at least 3 seconds or longer, so the viewer wouldn't miss them.

Use close-ups for hotspots

Objects that take up the full frame are easier to interact with and score higher interaction rates than ultra-closeups and abstract shots.
Leave Room in Your Storyboard for Interactions

Interactions like hotspots, buttons, and forms require space inside a frame. The best practice here is to dedicate a part of the screen solely for interactions, make them large, and clear.

Encourage Your Audience to Interact with Your Video

Be explicit with what the viewer can do and how it will change the video.

Limit Distractions so the Audience Can Interact Easily

Using more than 3 hotspots within one shot can be confusing, so try focusing on the 2 or 3 main ones.
Set your objectives (creative and business goals)

First, define the creative and business goals of your video project. This is basically your project scope – from the desired outcomes such as sales to the supported devices where users will be able to watch the video.

Devise a concept to match those objectives
Decide on your technology solution early in the production process

Not all interactive video technologies are created equal.

If mobile matters, check the experience

Keep in mind the average screen size and poor cellular data connection.

Choose a scalable IV technology

In other words, search for a solution that allows easy publishing and editing after the initial publish.

Make sure your distribution is aligned to the campaign

Publishing a video in a wrong place or at a wrong time can have a dramatic negative impact on its performance.

Iterate, iterate, iterate

Take advantage of video analytics to derive valuable audience insights and optimize your videos continuously.

Make sharing easy

Pick a few key choice transition points and include social sharing buttons there. Don't forget to embed sharing functions with a compelling call to action at the end of the video too.
Ready to act?
We can help you discover your video marketing potential and define the first steps. For free!
Video Adaptation Examples
Now, knowing the main types of interactive videos and the best practices for their production, you can venture out to create one of your own.
One final thing to mention is that interactivity is not just meant for new, expensive projects. It can also be embedded into your existing videos, thus enhancing the results you already get, without investing in brand new interactive videos too early.
Below, you will find two examples of how a common linear video can be adapted to utilize interactivity.
Linear video + Interactive Elements
Original video (example)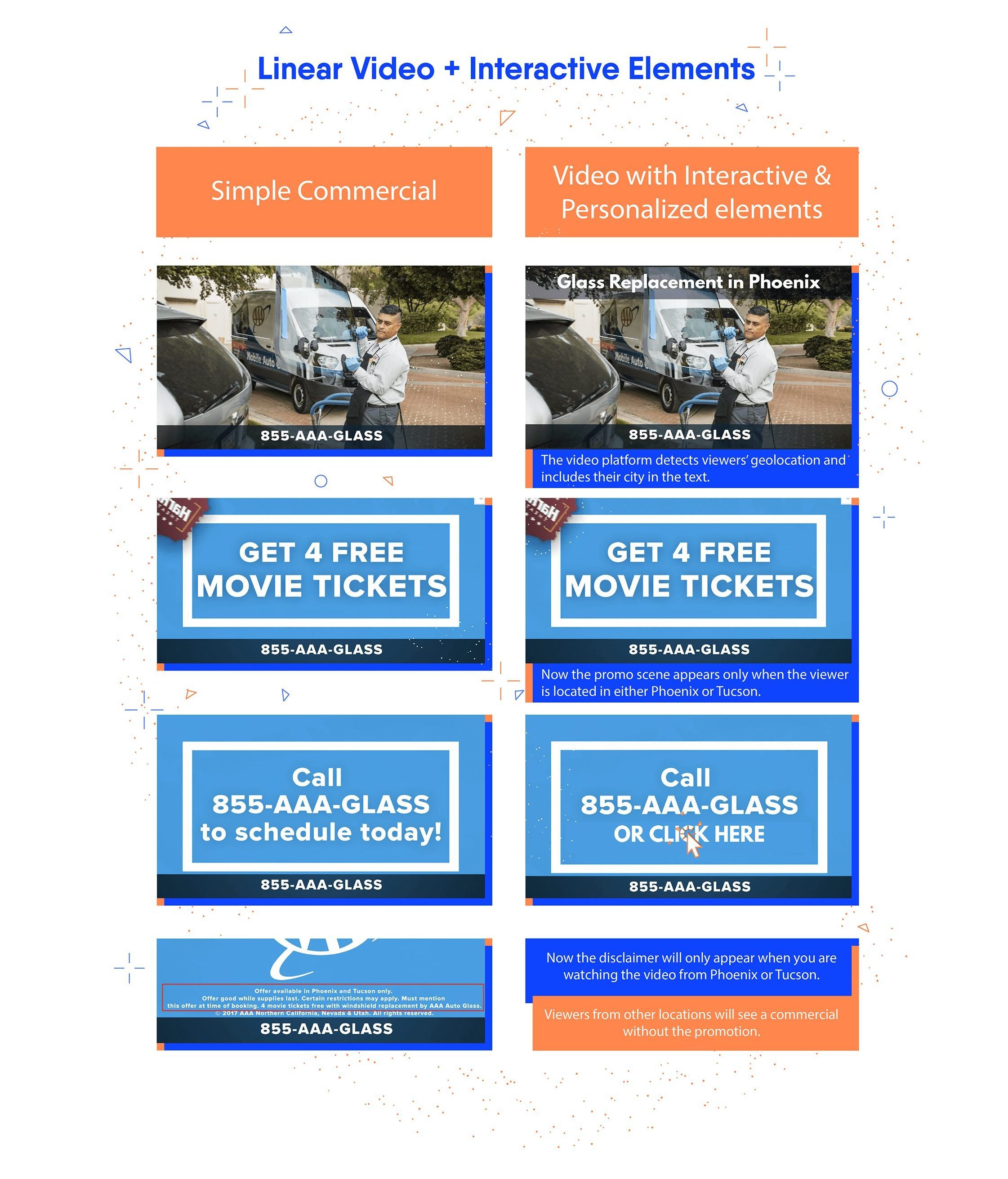 Interactive video with Branching
Original video (example)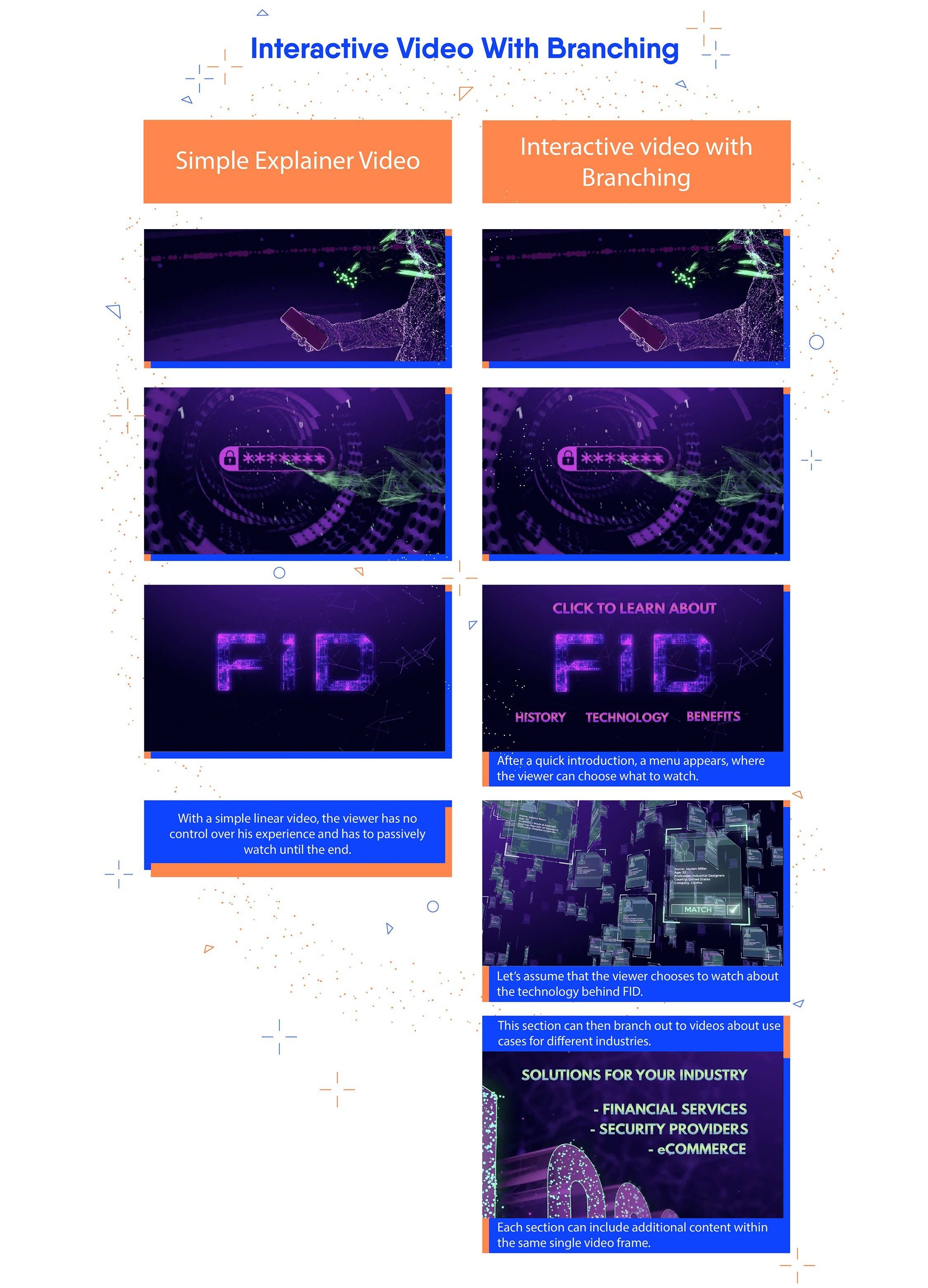 Time to act!
Now that you know the basics of interactive video, you are well equipped to plan your own interactive project. Get started by contacting us to get a free consultation on your specific business case.