SaaS Video Marketing – Main Concerns & Benefits
26.06.2019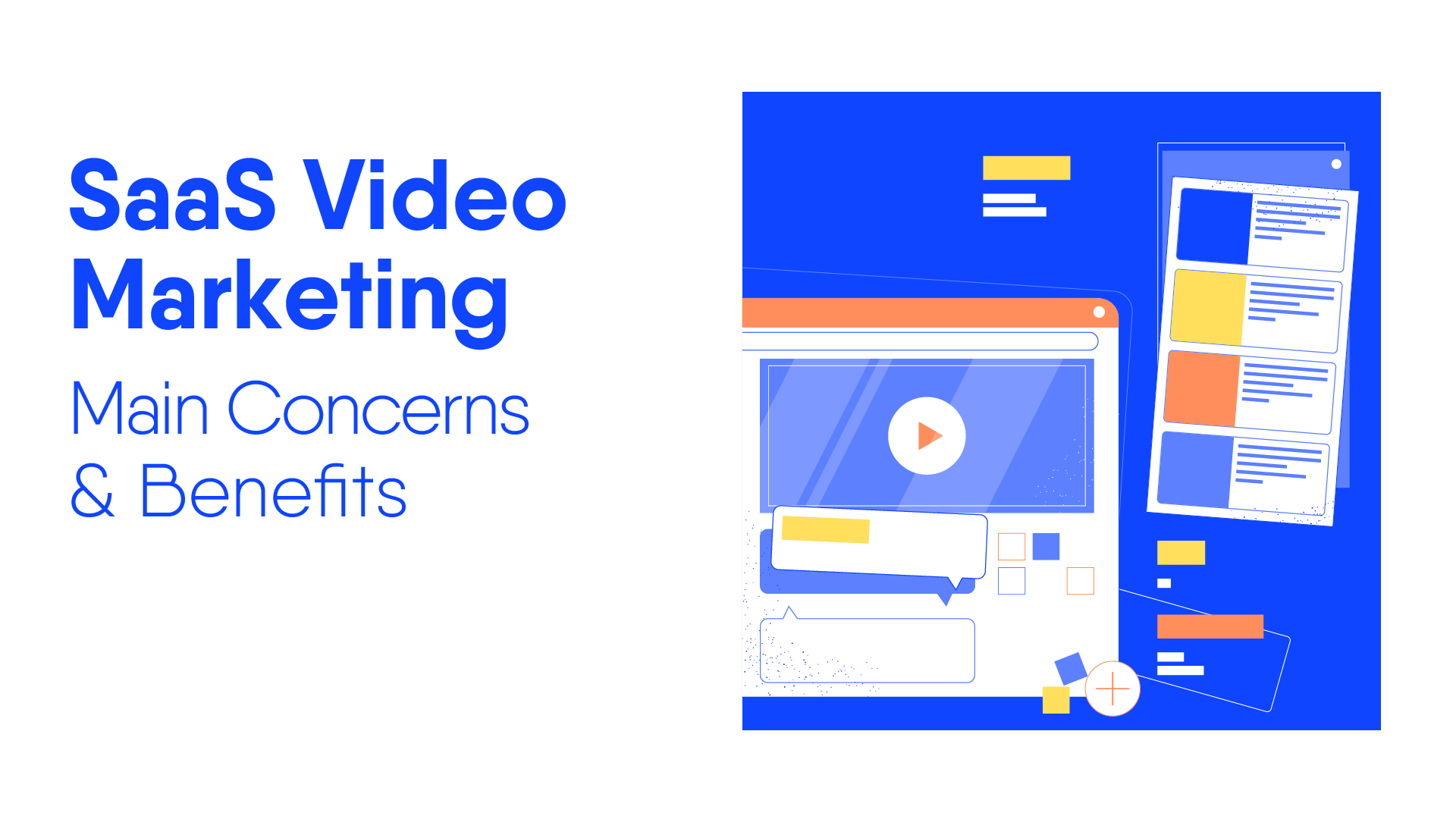 No SaaS marketing today is complete without a video. Online videos are the second out of the top three channels with the highest ad revenue growth. They are also a top performer in terms of ROI, according to Hubspot, and continue to grow as a marketing tool exponentially every day.
Most SaaS marketers understand this tendency, but nonetheless, take a pause in their video marketing efforts. Some – due to budget concerns or a lack of expertise, thinking it will be hard to start with video production. Others – due to a negative past experience that makes them reluctant to approach video marketing again.
As with all investments, the ultimate question should be whether spending on a specific video is worth it or not for your specific SaaS business. To help you answer this question, we have prepared this article about the perks that video can bring to your table.
Two Common Concerns
Before we move right to the benefits, we need to briefly review the two most common concerns first. Both of them are actually two sides of the same coin:
The cost of video production ("How can we be sure that this video is worth it?")
The delayed rewards ("Is this video the best way to spend our marketing budget now?")
Regarding the cost, it depends on the kind of video you want to produce. On average, professional animated videos cost less than live action, as do videos that use less external resources and projects with lesser urgency, regardless of the chosen style.
When talking about the rewards of using videos, executives are worried that if they do get a significant ROI, it may happen in a too distant future. Meaning, other digital marketing initiatives could yield results much earlier than video.
This concern is fair, and when you invest in developing a SaaS product, you can't afford to wait for three months before your YouTube video brings the first customer. Luckily, there's a better way to get quick results with videos, without paying for video ads.
Read on to find out for yourself if the benefits of an animated video outweigh the risks you are most concerned about.
Benefits of animated videos for SaaS companies
Animated videos can help connect with customers
A common challenge with SaaS marketing is that software products are impersonal and intangible in of themselves. All that your potential customers see is an abstract idea, pixels on a screen that they can't hold that usually form a very sterile, utilitarian UI/UX.
Animated video can breathe character into your brand and familiarize the prospective customers with your product like no other medium. Videos, in general, are the best marketing tool for attracting and keeping customers' attention, while animation effectively simplifies complicated concepts.
For these reasons, it's no wonder that animated videos are such a popular form of entry-level content. Explainer videos, in particular, are often the first type of videos that our SaaS clients order.
Animated explainers and other kinds of awareness-stage video provide a quick, memorable introduction for your product and act as a bridge between your brand and your audience.
Moreover, videos can support your existing marketing efforts at various strategic touchpoints across your funnel. Think of how you can use videos as an air cover for activities such as email marketing or SMM. The synergy between different channels and types of content can yield tremendous results even on a smaller budget.
Videos can save time & effort for sales
Video marketing can directly improve your sales when used as a part of your sales pitch. Sales reps, regardless of their professionalism, as still human and thus have limitations. Videos, on the other hand, consistently deliver a perfect message.
This comes especially handy for software products, as there's usually a long list of features and benefits to remember. The right promotional video can hit all of those points and provide a convenient segway into a subsequent presentation or a conversation with a prospect.
Furthermore, when a customer is already yours, video tutorials can save the hustle of onboarding new users.
Want a similar video?
Request a quote and receive free video marketing advice from our team. No strings attached!
Videos can save time & effort for HR
Customer and employee onboarding are similar but not the same. The latter requires much more guidance and is also 100 percent repetitive in most cases. Luckily, employee videos and tutorials are perfect for passing on instructions and can substantially speed up the onboarding process.
Some employee videos are not only useful for internal communications but can also strengthen external employee branding (e.g. at a job fair, on job sites).
Videos can boost SEO & online presence
The point about video SEO is so old and boring that it's easy to overlook it today. Yes, YouTube is the third largest search engine in the world, yes, publishing your video there gives it a better chance of becoming viral. But there's more to video SEO than this.
Search engine optimization of videos is not unique to YouTube. In fact, most video platforms claim to provide some features that boost search rankings either for your video or for your entire page where it is hosted.
Videos can increase website conversion rates
When the prospective customers finally come to your website, videos highly improve your chances of conversion. Data suggests that a homepage video can increase conversion rate by 80%, and over 70% of B2B marketers "say that video positively impacts marketing ROI".
One of the reasons is that animated videos provide quick answers, effortlessly and in a compelling way. Visitors know that watching a 2-minute explainer on a website, for example, will give them enough information to decide whether they want to continue exploring further.
For a SaaS company, optimizing its website with video is absolutely vital to lowering bounce rate and increasing conversions. Customers are used to free trials and freemium models, the market is oversaturated. Even if you introduce something unique to the world, no one has the time to dig into it, unless they are genuinely excited.
When your visitors are actually engaged, it's easier to persuade them to act, especially with an interactive call-to-action that's right in front of their eyes. According to Wistia's report, its Turnstile feature (which is essentially an email magnet) boasts an average of 22.17% conversion rate while placed in the middle of videos.
Consider producing a landing page video for your top-selling offer to test the direct impact that video marketing can have on your lead generation and sales.
Animated videos can help build the right brand identity
Thanks to the complete creative freedom in animation, it is possible to produce almost any brand image for your company without breaking the budget. For example, your software may not yet launch rockets into space, but if it's your vision – animation can visualize it.
With animated marketing video, even the most generic software development company can create a distinct brand identity with its unique aesthetics and relatable values. A brand that will feel real, with the exact narrative, colors, typefaces, sounds, and moves that you need.
Finally, it's worth mentioning that after becoming successful, many SaaS companies are still producing animated videos for their marketing. In of itself this already makes young brands look more trustworthy when they use high-quality animated content.
Final remarks
An animated video can serve multiple purposes and, by this, successfully boost your ROI, when it's produced well and intentionally for those use cases. Or it can flop completely when strategic planning is absent, even if it's gorgeously made.
Make sure that the video production company you choose has experience with SaaS clients and understands your niche. An agency that has never worked on blockchain projects, for example, will have a hard time figuring out what a company that develops a blockchain-based product really needs.
Here at Verstiuk Production, we have worked with many SaaS companies from finance & banking, HR, IT security, education, project management, business improvement, ERP, and marketing industries.
For more advice and details, feel free to contact us directly.